By Cherry Wilson
UK Insight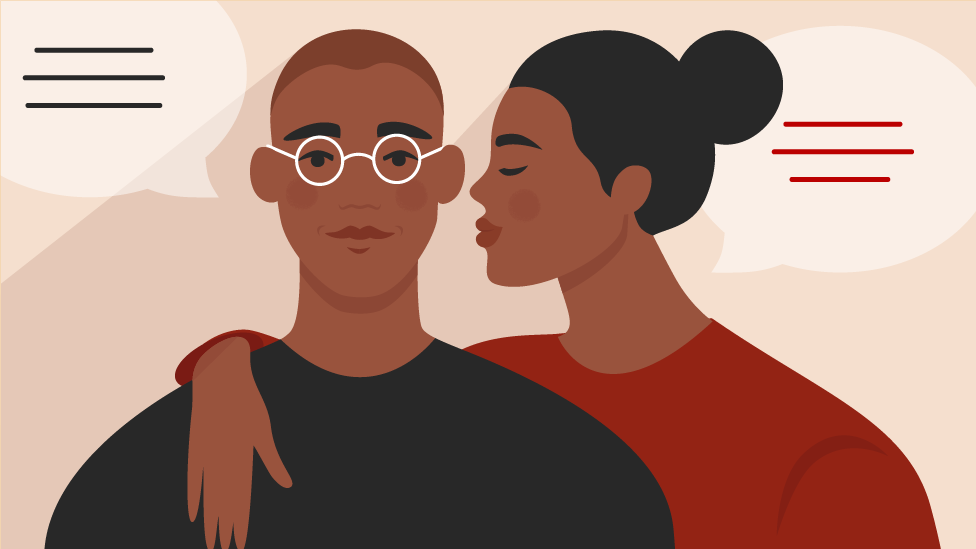 We have all heard of sexually transmitted infections (STIs) – chlamydia, gonorrhoea, syphilis, genital warts – but do you know anyone who has had one?
The chances are that you probably do, because let's be real – people are having sex and things happen.
Although they are fairly common, STIs are just something that don't get talked about that much.
I'm pretty open with my mates, but STIs don't really pop up on our group chat. I've never had a conversation about it with my mum – and definitely not my dad.
But it's an important conversation that needs to be had, because when I looked at government statistics around STIs there was something that really surprised me.
I know that STI rates are higher among 16-24 year olds in England – I remember all the ads at my Freshers' Week encouraging students to get tested. But what I didn't expect to see was that rates of STIs are highest among people from the black community. And that's been the case for several years.
It brought up some uncomfortable feelings and the question I kept asking was – why?
Dr Annabel Sowemimo, who works in sexual health and set up the organisation Decolonising Contraception, says it's complicated, but that "when you delve into the issues, it all starts to make a bit more sense".
"We think about poverty rates in the UK, we think about access to education and we also think about migration patterns – so often people have partners from abroad where screening and access to healthcare is not as good," she says.
"So when you start to look at the whole circumstances, it's not as straightforward as how people have tried to put it in the past – 'Oh this demographic is having more sex and they've got more STIs'."
Talking about sex and STIs isn't easy, and that's something I found when looking into this topic for the BBC Radio 1Xtra If You Don't Know podcast.
At the Radiate Windrush Festival in south London in June, there was one stall that didn't get much love and attention. It was set up by Love Sex Life – an organisation which works to raise awareness and offer sexual health support to the black community in south London.
To be honest, if someone came up to me at Notting Hill Carnival to talk about chlamydia I'd probably find it awkward too.
"I don't need that, I'm a good girl," one woman said, peering over.
Others didn't want to give their names because they were worried that their auntie or mum would hear them talking about sex.
"From my experience it's not something you easily talk about with your black mother," one 21-year-old woman says. "Within my friend circle, I'm comfortable having these conversations, but not all of my friends are."
"Growing up, we would make it a shameful thing," one 43-year-old man says. "Crabs, gonorrhoea, syphilis, herpes and all the rest of it – I feel like in the black community, if people ever go through an episode of that, they wouldn't want to talk about it."
Listen to If You Don't Know on BBC Sounds
Listen to the latest If You Don't Know podcast to hear more to hear more about this story.
And there's definitely one part of this topic I felt most uncomfortable addressing.
When I looked into the figures further, they show that it's people from a black Caribbean background who have the highest rates of STIs within the black community.
Reading through some documents published by Public Health England, which put out the statistics, there was one paragraph that stood out immediately. It said that data suggests people of black Caribbean ethnicity were more likely to have sex for the first time at a younger age, have a higher number of partners overall, and have more partners at the same time – and this may be a reason for the higher rates.
Even though it says the evidence suggests that increased STI risk is "only partially explained" by sexual behaviours, I still think there will be some people from the black Caribbean community who – like me – might be uncomfortable reading that.
One side of my family is Jamaican, and highlighting sexual behaviours just reinforces the stereotypes we've heard time and time again. It feels like a judgement – and I wondered whether that was actually fair?
Dr Sowemimo says it's important to look at the reasons behind certain sexual behaviours.
For example, she tells me the story of a young Caribbean man who came to her clinic having had gonorrhoea repeatedly. "It emerged that he was couch-surfing and sleeping with women so he could have housing, and wasn't using a condom. Essentially it's a form of sex work but we don't perceive it that way."
High rates of STIs are often linked to poverty, what health care services people can access and education levels, so it's important not to over-simplify the picture, says Dr Sowemimo.
"We know that young black Caribbean men have disproportionate rates of incarceration, they have worse educational outcomes, higher rates of unemployment. So it's much more complicated than saying 'oh, someone's having loads of sex'."
Experts working in this field told me that shame is one of the biggest barriers to bringing down infection rates in the black community, where sex is often a taboo topic and sexual health is not discussed.
"Nobody wants to talk about it, so that stigma is stopping open and honest conversations," says Aisha Namurach, who runs Common Ambition – a sexual health outreach project for the black community in Bristol.
She tells me that most people think STIs are not something they need to worry about.
"One of the things I hear very often is, 'But I know my partner's clean, they're only sleeping with me,' she says. "If you can tell someone's sexual health by just looking at them, then fantastic – you have a skill that nobody else on the planet has."
Aisha and her team know how to reach the black community in Bristol, and often go out into barbers' shops to chat with black men about sexual health.
People learn about sex through their friends so it's important that those conversations are well-informed, Aisha says. One of the misconceptions her team come across is that people can't find condoms to fit because they're "so blessed".
"Have you seen what you can fit in a condom?" she says. "Trust me when I tell you that you are going to fit."
Aisha says we need to normalise having conversations about getting tested for STIs when in a new relationship, while people who have casual partners can protect themselves and others by using condoms and having regular tests.
Left untreated, STIs can cause health issues such as pelvic pain, ectopic pregnancy and infertility.
Dr Sowemimo and other experts told me more research is needed to fully understand the complicated reasons why STIs are higher among people of black ethnicity. They also want to see more money invested in projects aimed at the black community. "That's been a long time coming because people feel very uncomfortable creating services for black communities specifically based on STIs, because of the stigma," says Dr Sowemimo.
More from Cherry:
The UK Health Security Agency – which replaced Public Health England in October last year – said it routinely monitors trends in STIs among ethnic groups and shares the data with local councils to help guide "action to reduce sexual health inequalities".
It said it is also supporting commissioners and sexual health providers in developing interventions to improve the sexual health of people of black Caribbean ethnicity.
The Department of Health says it is has spent £754,000 to fund 17 projects aimed at improving the sexual and reproductive health of black communities in England over the past six years.
It says £134,000 of that was used for projects targeting wider aspects of sexual health such as STIs and sex education.