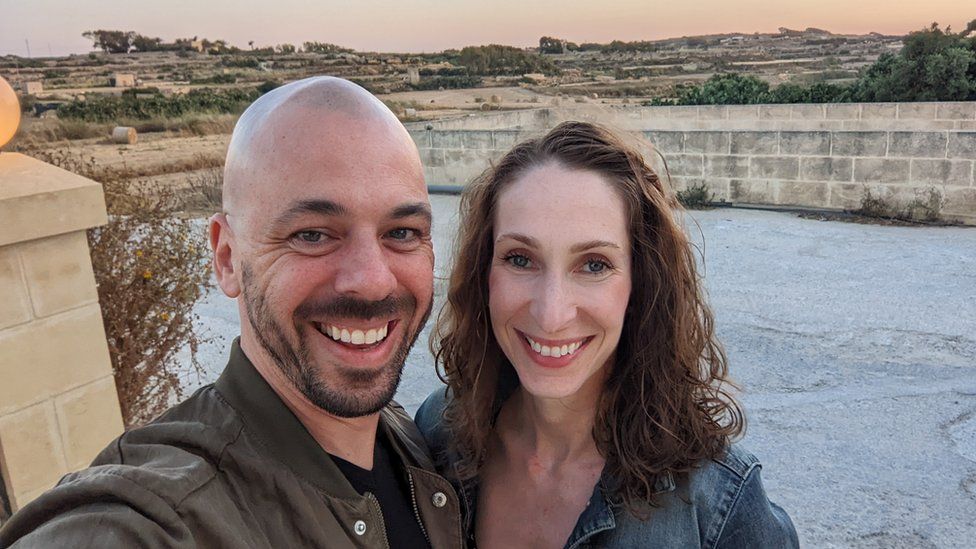 Now that her ordeal is over, Andrea Prudente is ready to speak out: she is determined that no other woman should go through what she did.
After days of anxious wait, she and her husband Jay were airlifted from Malta to Spain where Andrea received the treatment Maltese doctors had denied her.
Her pregnancy – one that had been deemed no longer viable – was terminated before her body developed a potentially deadly infection.
I speak with Andrea as she's recovering from the procedure in a hotel in Mallorca.
She looks pale and still shaken. She tells me it will take her a long time to process what happened.
Andrea and Jay were on holiday in Malta when she started bleeding and her waters broke. She was 16 weeks pregnant.
Doctors told them that without amniotic fluid, with the placenta partially detached, and so early in the pregnancy, their baby had no chances of survival.
"It was a shock," Andrea tells me. "The heartbreak of finding out that this baby that we wanted, that we planned for, was going to die, was devastating on its own."
But when they got to the Mater Dei hospital in Malta, their grief was gradually overshadowed by the realisation that doctors there could not terminate her pregnancy: the baby's heart was still beating, and under Malta's complete ban on abortion, this meant there was nothing they could do but wait.
"One of the midwives told me when I would be on the 'brink of death' – she used these words – then they might intervene with a termination. It was terrifying," Andrea tells me.
But Dr John Mamo, the President of the Malta College of Obstetricians and Gynaecologists, insists doctors would have never let Andrea's condition deteriorate to that degree.
"We have patients like this approximately five [times] a year – and this is the management we use and we've had no problems with mothers over the past ten years at least," he tells me.
"There are studies that show that even at this early stage of the pregnancy between 10 to 40 percent of babies do survive," he adds. "So with a lady that comes into the hospital, we don't rush to terminate the pregnancy."
Dr Mamo assured me that, had Andrea developed a fever or showed any early signs of infection, the doctors at Mater Dei would have wasted no time and would have terminated the pregnancy.
Andrea and Jay waited a week in hospital for either her body to naturally expel the foetus, or for her to develop a life-threatening infection. They say this took a heavy toll on their mental health.
"There was this tangled sentiment where every day we would listen to the little heartbeat of this child that we wanted, but the presence of this heartbeat meant I was still in danger. So on the one hand we were rejoicing at the sound of that heartbeat, but at the same time we wanted it to stop," Andrea says.
Eventually, the couple managed to secure an emergency medical evacuation to Spain, paid for by their travel insurance.
But they are aware this option often is not available to Maltese women or others who wouldn't have the financial means to sustain the costs of an evacuation to another country.
"Abortion is a complicated, intensely emotional and personal topic and, whatever your ideology is, a complete ban on abortion, in effect puts the lives of women at risk – sometimes for no gain at all," Andrea tells me.
"I just don't want this to keep happening and it will keep happening with complete bans on abortion. The thought of women who might find themselves in my position and have no way out, not being able to get somewhere where they can have humane and compassionate care, that's just wrong," she adds.
A legal challenge for Malta
Andrea is visibly worn out by this experience. Jay is enraged.
"We lost our child, and they also put Andrea's life at risk," he tells me. "We're not abortion activists, we wanted this baby, but the way the law is written in Malta, is just in complete disregard of the fact that there's already suffering and pain there."
Malta is the only country in the European Union that completely bans abortion. The law considers no exceptions, for example if the pregnancy is the consequence of rape or incest.
But Andrea's case has now reignited a discussion over the ban in the country. Earlier this week Rosianne Cutajar, a Labour MP, called on her colleagues in Parliament to reform the law.
"As a country, we cannot and should not wait for another traumatising incident (or worse) before we review our current legal framework on abortion," she says.
On Thursday, the country's Health Minister, Chris Fearne, said he had asked for a review of the legislation to ensure the current law doesn't prevent doctors from saving lives.
But for Andrea and Jay this move comes too late. The couple say they now plan to sue the Maltese government.