By Ben Tobias & Alys Davies
BBC News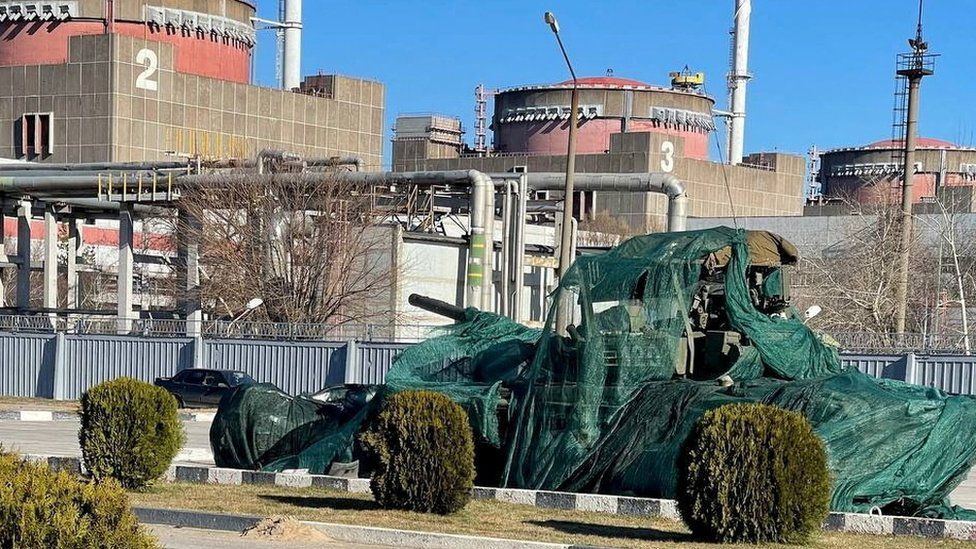 Russian forces at Europe's largest nuclear power plant in Ukraine are employing "terror tactics" by using the site to launch rocket attacks on civilians, the BBC has been told.
"Every morning we wake up and see that they have hit only residential homes," a local businessman told us.
Russia controls the Zaporizhzhia plant and surrounding areas, close to Ukrainian-held territory.
Western officials have sounded the alarm about Russia's tactics there.
The Zaporizhzhia nuclear plant lies in the south-east of Ukraine along the eastern bank of the Dnipro river. It is currently still being operated by Ukrainian employees under Russian supervision.
It consists of six pressurised water reactors and stores radioactive waste.
In its daily intelligence update, the UK defence ministry said Russia was using the area to launch attacks – taking advantage of the "protected status" of the nuclear power plant to reduce the risk of overnight attacks from Ukrainian forces.
Any accident at the power station could have catastrophic consequences.
The assessment reflects the views of civilians in nearby Nikopol, which lies across the Dniper river and is still under Ukrainian control.
"Our forces don't shoot back because the 30km zone around the power station is sacred. You don't want to shoot there. But the Russians are terrorists. There's nothing sacred to them," the local businessman, who did not want to be named, told the BBC.
"It's meant to scare us," he continued, explaining that rockets have hit Nikopol every night since the middle of July.
"It's not only people in Nikopol who are scared of a nuclear accident," the Nikopol businessman said. "It's the biggest nuclear plant in Europe. If there's an accident, it won't only be local to Nikopol. It would have consequences for the whole world."
Ukraine has previously said that Russian forces have stationed troops and are storing military equipment on the power station's grounds.
But a Russian-installed official in the region told Reuters news agency that Ukrainian forces are using Western-supplied weapons to attack the plant.
Russia shelled the plant when it was seized, leading to an international outcry.