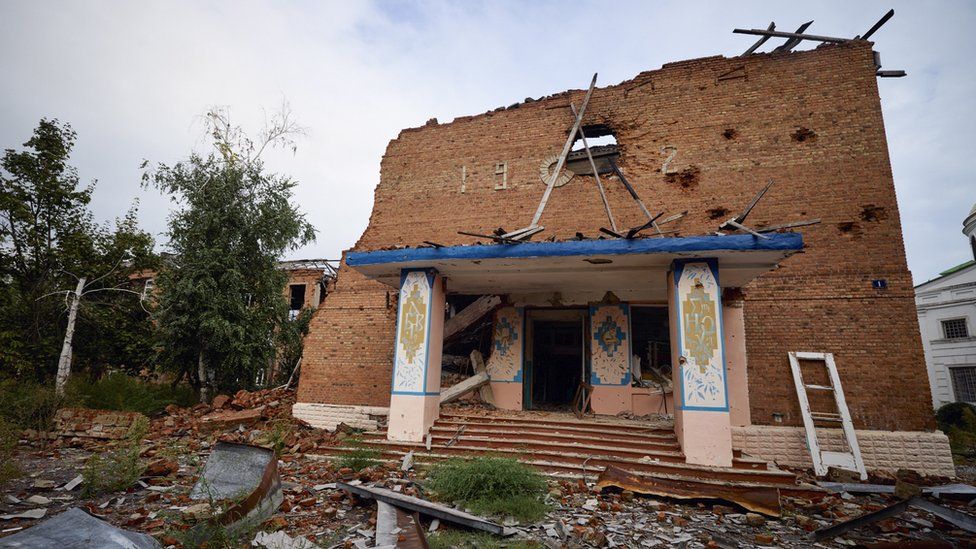 Ukrainians have been celebrating their recapture of the north-eastern city of Izyum, one of the highlights of their counter-offensive that has marked a new phase in the war.
But on Thursday, evidence began to emerge of the damage inflicted by Russian troops during their five-month occupation.
The BBC's Orla Guerin, reporting from the scene, saw Ukrainian troops grouped by the roadside near the city, inspecting the spoils of war with broad smiles.
She described passing abandoned Russian tanks along the way, with many shelled and blackened buildings.
"The city is without running water, electricity or heat," she says.
"The dead are still being counted here, but local officials saw 47 people – children among them – killed in an air strike on a five-story block of flats back in March."
Mercenary chief seen recruiting Russian convicts
The speed of the Ukrainian counter-offensive has exposed once again how thinly spread Russia's occupying forces are.
In the Kremlin's military adventures, both in Ukraine and further afield, regular troops have often been bolstered by members of the shadowy Wagner mercenary group.
In the footage, verified by the BBC, he can be seen addressing a large group of detainees, apparently confirming long-running speculation that Russia hopes to boost its forces by recruiting convicts.
Mr Prigozhin told prisoners their sentences would be commuted in exchange for service with his group.
While Russian law does not allow commutation of prison sentences in exchange for mercenary service, Mr Prigozhin insisted that "nobody goes back behind bars" if they serve with his group.
On Thursday evening he appeared to defend the idea of sending prisoners to the frontline. In a statement on his company's social media feed he addressed those who were uncomfortable with the idea, saying it's "either prisoners or your children – you decide".
Putin reveals China's 'concern' over Ukraine
While the pressure mounts on the Kremlin after Russia's military setbacks, President Vladimir Putin has left the country for what is only his second foray abroad since February's invasion.
Mr Putin acknowledged China's "concern" over Ukraine but also thanked China for its "balanced position", and said US "attempts to create a unipolar world" would fail.
Mr Xi said China was willing to work together with Russia as "great powers".
China has not endorsed Russia's invasion, but has strengthened trade and other ties with Moscow since it was launched.
Houses flooded after missiles hit major dam
Officials in Kryvyy Rih in central Ukraine said the city was hit by another Russian missile on Thursday.
Kryvyy Rih is the hometown of Ukraine's President, Volodymyr Zelensky, and there has been speculation that the attack was carried out as an act of revenge, because of Ukraine's successful recent counter-offensive in the country's north-eastern Kharkiv region.
Thursday's missile strike was on what was described as an "industrial enterprise". The head of the local military administration said it had caused serious damage.
After the earlier attack on the Karachunivske reservoir, President Zelensky described Russia as a "terrorist state".
Moscow has not publicly commented on the reported missile strikes.
Who is winning the war in Ukraine?
Ukrainian forces have made rapid gains in recent days, retaking large areas from Russia.
In a decisive offensive in the north-east that began earlier this month, Ukraine drove back Russian forces. It claims to have retaken more than 8,000 sq km (3,088 sq miles) from Russian control in September – its most significant territorial gains since the war started.
But the struggle is not over yet. Russia says it's regrouping – and its forces still hold about a fifth of the country.