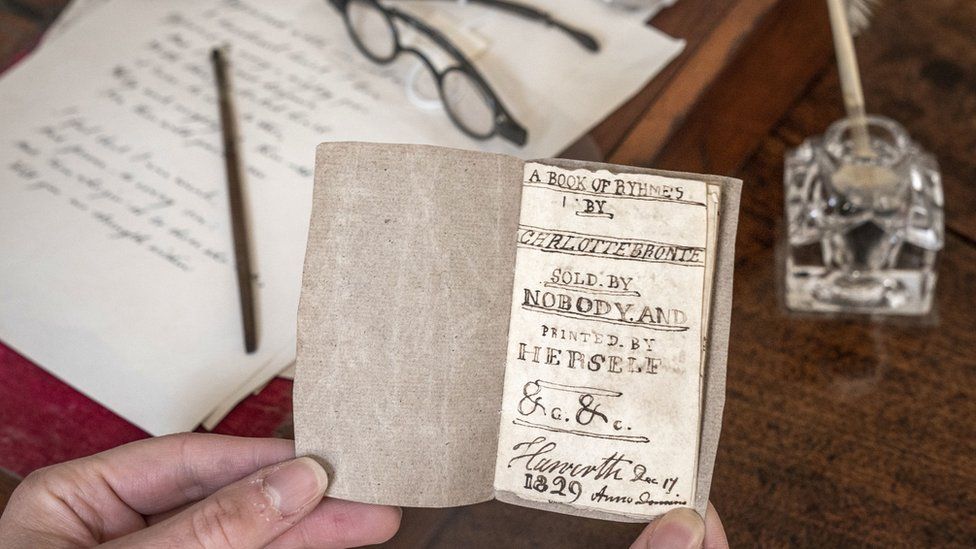 A miniature manuscript written by a 13-year-old Charlotte Brontë has gone on public display after being returned to her West Yorkshire home.
The 15-page book, smaller than a playing card, is dated December 1829 and is stitched in its original brown paper covers.
It measures 3.8in (9.6 cm) by 2.5in (6.3 cm) and contains 10 poems.
Ann Dinsdale, principal curator of the museum in Haworth, said at the time of the donation she was "absolutely thrilled" at the book's return.
Charlotte, her sisters, Emily and Anne, and brother Branwell created a number of miniature books as children growing up together at the Parsonage in Haworth.
They wrote adventure stories, dramas and verse in hand-made manuscript books filled with handwriting intended to resemble print.
Charlotte, who would go on to write her classic novel Jane Eyre 18 years later, wrote six of these "little books" and this was the final one believed to still be in private hands.
A Book Of Ryhmes [sic] By Charlotte Bronte, Sold By Nobody, And Printed By Herself, includes poems entitled There's Beauty in Nature and On Seeing The Ruins Of The Tower Of Babylon.
The book is mentioned in Elizabeth Gaskell's The Life Of Charlotte Brontë (1857), but the poems have never been published, photographed, transcribed or summarised.
The manuscripts whereabout or survival were unknown since it sold for $520 (£408) in 1916 until it was offered for sale by James Cummins Bookseller of New York City and Maggs Bros of London.
They offered it to British literary charity Friends of National Libraries (FNL) and gave them several weeks to raise the almost £1m needed to secure the book.
Funds were raised from more than nine donors, including the Garfield Weston Foundation and the TS Eliot Estate.
The price paid is believed to be the highest ever for a female author.
The previous record was set in September when a first edition of Mary Shelley's Frankenstein sold for $1.17m.
Related Internet Links
The BBC is not responsible for the content of external sites.