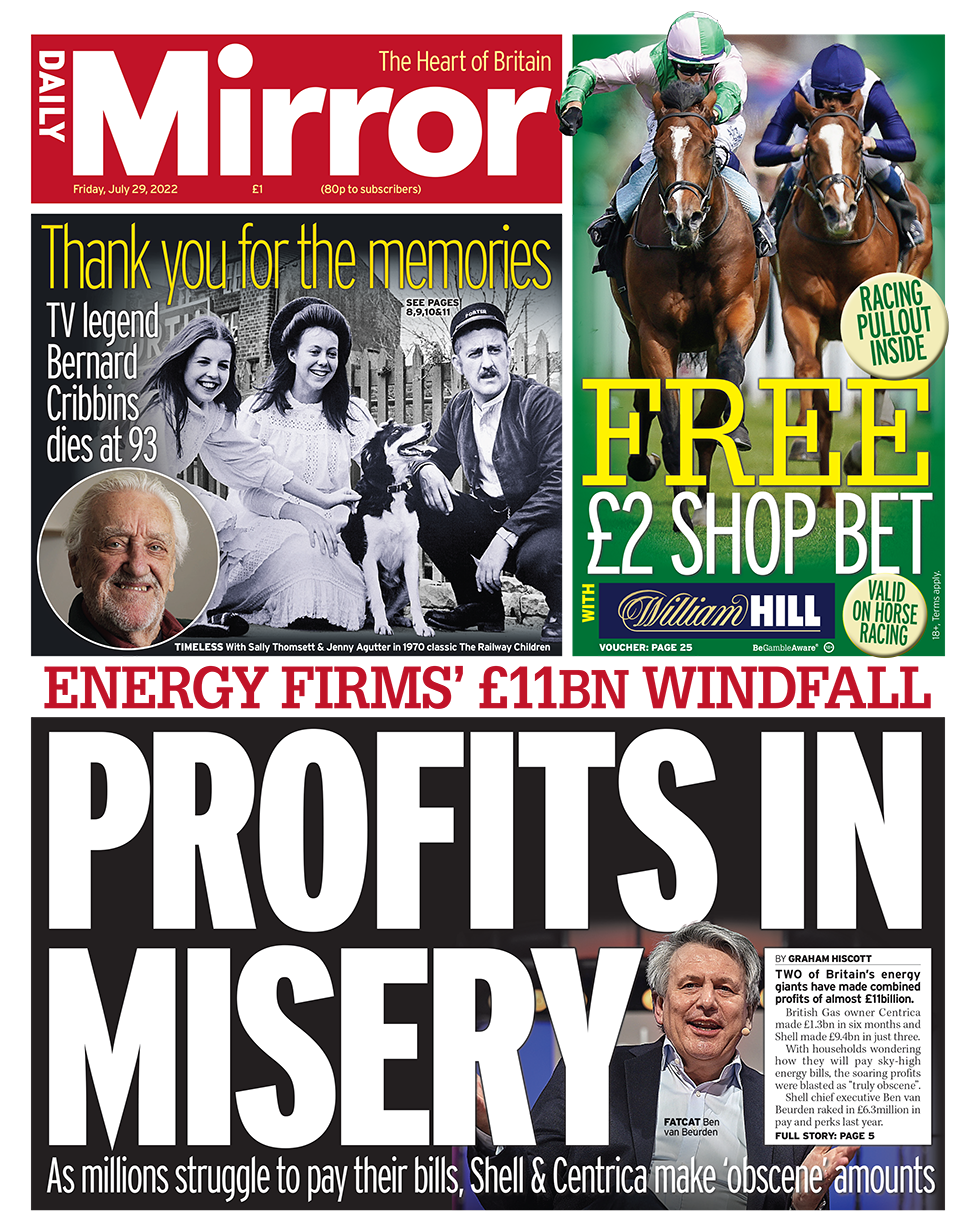 There's considerable anger on Friday's front pages about the announcement of huge profits made by two of Britain's biggest energy companies, Centrica and Shell.
But the Financial Times says Centrica is urging the government to provide more help to struggling households – warning that the UK is facing a "difficult winter".
The Daily Telegraph says both Conservative leadership contenders are ready to consider restricting the use of puberty blockers if given the keys to Number Ten.
The comments follow the announcement from the NHS of the closure of the UK's only dedicated gender identity clinic for children and young people, after it was criticised in an independent review. In an editorial, the Daily Mail says this is a "cause for celebration".
The Daily Express leads on an interview with Rishi Sunak, who pledges to double the number of foreign criminals deported from the UK if he becomes prime minister. The paper says he wants law-breakers kicked out if they have served at least six months in prison rather than the current 12 months.
His rival, Liz Truss, gets the endorsement of her Cabinet colleague, the defence secretary, Ben Wallace, in The Times. He writes that she is the "only candidate" with the experience to lead the nation from day one – saying she "means what she says".
The Sun says Mr Wallace's backing gives the foreign secretary's campaign a "huge lift" because he is "hugely popular with the Tory grassroots".
According to the i, the cabinet office is investigating "several leaks" designed to damage a number of the contenders who featured in the Tory leadership race. The paper says an initial probe was launched last week about information which targeted Penny Mordaunt's campaign.
The paper also says there is huge distrust inside government, with ministers feeling that they can no longer have "frank discussions about policy" in case talks are "weaponised".
The Financial Times says developers could be banned from building new homes in west London because the electricity grid has run out of capacity to support them. In a letter seen by the paper, the Greater London Authority says it could take more than a decade to "bulk up capacity" in the boroughs of Hillingdon, Ealing, and Hounslow. The paper says this could jeopardise housebuilding targets in the capital.
The Guardian says last night's opening ceremony "celebrated the history and culture of the host city", with "a 10-metre tall raging bull, a union jack made from 72 cars, and a flying drag queen".
The Daily Mail describes it as "slick, properly spectacular and full of the same originality, quirk and good-humoured enthusiasm" seen at the opening ceremony of the London Olympics 10 years ago. The Birmingham Mail proclaims it was "a proud day to be a Brummie".