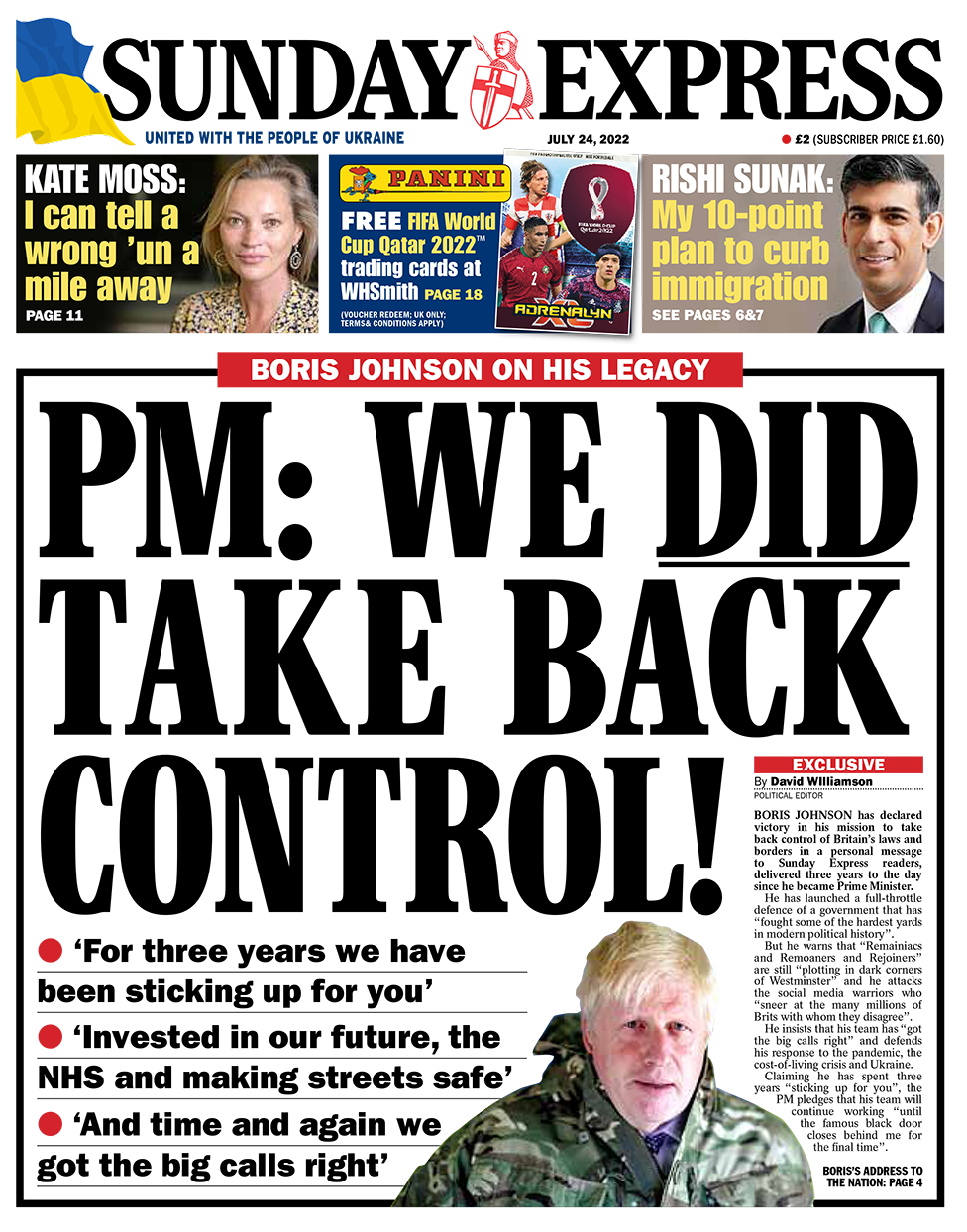 A number of Sunday's papers highlight another Conservative leadership battleground: Immigration.
Rishi Sunak's plans – which include using cruise ships to house illegal migrants – are laid out in the Sunday Telegraph.
Writing in the paper, he suggests that the government has failed to deliver on the Vote Leave pledge to "take back control" of the country's border and he wants to "inject a healthy dose of common sense" with his 10-point plan.
The Telegraph says the former chancellor's proposals – which also have a promise to curb the power of the European Court of Human Rights – will be seen as an appeal to the right of the Tory Party, from which it says his rival, Liz Truss, "enjoys significant support".
It says they've sparked outrage in the aid community, with Oxfam branding them "cruel".
The charity's head of government relations, Sam Nadel, tells the Independent: "If anything, this shows that the heat of campaigning leads to bad policy."
The foreign secretary insists that the "Rwanda policy is the right policy" – and that she's "determined to see it through to full implementation".
Ms Truss goes on to tell the Mail that she wants to end what she calls the "appalling people trafficking we're seeing".
The Scottish Mail on Sunday leads on what it claims to be the "ugly truth" about a ship to house Ukrainian refugees, which is moored outside Edinburgh.
The paper says an investigation it's carried out reveals that hundreds of Ukrainians would face "grim and unsuitable" conditions onboard MS Victoria. It says a similar scheme already running in Estonia has families living in cramped and windowless cabins.
"We did take back control!" the headline quotes him saying, as he expands on his three years at No 10, post-Brexit.
The Observer carries a warning that the long summer summer queues of holidaymakers at the border risk becoming what it calls "the new normal" after Brexit.
The paper highlights what it calls the "travel chaos" at Dover, with new rules requiring all passports to be checked.
The main story in the Sunday Times is a warning from doctors' leaders that "it's no longer feasible to be a full-time GP" – as data suggests that half of all patients are struggling to get through to their GP.
Prof Martin Marshall, chairman of the Royal College of GPs, tells the paper that family doctors are having to spend 20% of their time doing paperwork and "in order to do the job, GPs are forced into seeing a small number of people".
It reports that "skint" NHS workers are selling their annual leave to make ends meet. One mental health nurse tells the paper she's already exhausted, and doesn't sleep or eat properly, but says she has no choice about doing extra shifts.