By Malu Cursino & Christy Cooney
BBC News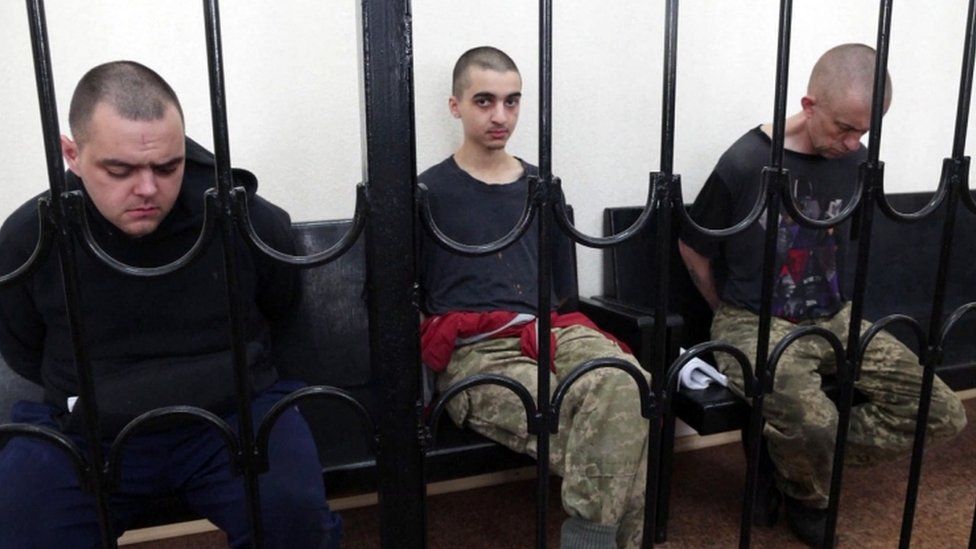 The families of two Britons sentenced to death for fighting Russian forces in Ukraine have said they need urgent access to medical and legal help.
Aiden Aslin and Shaun Pinner were captured fighting with the Ukrainian army and tried as mercenaries by a Russian proxy court.
Both the UK government and Ukraine's top prosecutor have said the sentences breach the Geneva Conventions.
Foreign Secretary Liz Truss spoke to her Ukrainian counterpart on Friday.
Ms Truss said she and Dmytro Kuleba discussed "efforts to secure the release of prisoners of war held by Russian proxies", adding that "the judgement against them is an egregious breach of the Geneva Convention".
Mr Aslin, 28, from Newark, in Nottinghamshire, and Mr Pinner, 48, from Bedfordshire, who were both already living in Ukraine at the time of the Russian invasion, were captured in April while defending the besieged city of Mariupol.
They were sentenced alongside a third man, Moroccan national Saaudun Brahim, by a Russian proxy court in the so-called Donetsk People's Republic, a pro-Russian breakaway region in eastern Ukraine.
Mr Brahim's father told Moroccan media outlet Madar21 that his son was not a mercenary but a student in Ukraine when Russia launched its invasion.
All three men were charged with being mercenaries, the violent seizure of power and undergoing training to carry out terrorist activities, according to Russia state news agency RIA Novosti.
The men's lawyer said they all wished to appeal against the sentence, Russia's Tass news agency reported.
Richard Fuller, MP for North Bedford, said he had spoken to Mr Pinner's mother and stepfather who "clearly are very very anxious".
He said the priority for Mr Pinner's mother is that her son and Mr Aslin have "access to proper health services and the Red Cross" and access to independent legal advice.
"This is a humanitarian issue. This is about the rights of individuals under international law," he said.
Aiden Aslin and Sean Pinner may have been sentenced to death, but what happens now is likely to be determined more by politics than the law.
In the short term, it is thought likely the two men will appeal against the conviction. Russian state media says they have a month to do so.
But for now Foreign Secretary Liz Truss has not summoned Russia's ambassador in London.
Officials fear that if the UK makes this a bilateral dispute with Russia, that would fuel the false claims that the two men are mercenaries, rather than Britons who have made Ukraine their home and served in its armed forces for several years.
Nor could Ms Truss formally negotiate with the authorities in Donetsk because UK does not recognise the People's Republic as a separate state.
So for now perhaps the best hope might be for Mr Aslin and Mr Pinner to be released as part of a prisoner swap between Ukraine and Russia. But that might be some time coming if Russia wishes to continue using the two men to put political pressure on the UK.
Asked about the men being sentenced to death, Ukrainian President Volodymyr Zelensky said we "cannot have any kind of excuses for such actions".
Robert Jenrick, MP for Newark, where Mr Aslin's family lives, said the sentencing of the British nationals by a "kangaroo court" breached the Geneva Conventions "in the most egregious manner".
Mr Jenrick said he wants to see both men brought back to their families, "probably by a prisoner exchange".
But he added that Russia appears "to be in no hurry to progress these prisoner exchanges".
Downing Street said the government was "deeply concerned" by the sentences given to Mr Aslin and Mr Pinner.
Who are Aiden Aslin and Shaun Pinner?
Aiden Aslin is a former care worker from Nottinghamshire. He previously fought with Kurdish armed units in Syria against the Islamic State group.
Mr Aslin has a Ukrainian fiancee and he moved to Ukraine in 2018. He has both British and Ukrainian citizenship.
He passed out as a marine with the Ukrainian military in 2018 and, according to his family, he is part of Ukraine's 36th Marine Brigade.
Shaun Pinner used to be a soldier in the British army before he moved to Ukraine in 2018.
His wife is Ukrainian and according to his family, Mr Pinner has a three-year contract with the Ukrainian marines that is due to expire at the end of this year.
Mr Pinner's family said he had been planning to then take on a humanitarian role in Ukraine.
Baroness Helena Kennedy, a senior barrister and expert in human rights law, told the BBC "Russia committed a war crime by handing them both over to the DPR (Donetsk's People's Republic), which is not a legitimate state".
She called the court in Donetsk a "pop-up court", adding that the decision "is a comeback for the trial of the two men who were tried by the Ukrainian court for war crimes".
Ukraine's foreign ministry described the "so-called trial" of the two Britons and the Moroccan national as "miserable" and said the Ukrainian government would "continue to make every effort to release all defenders of Ukraine".
"Such public trials place the interests of propaganda above law and morality, and undermine the exchange mechanisms of war prisoners," a spokesperson told the BBC.
In a statement, Ukrainian prosecutor general Iryna Venediktova said the sentencing was "nothing else but a violation and mockery of international humanitarian law and international human rights law obligations of Russia as an occupying power via proxies".
Interfax, another Russian news agency, claimed the men would be able to appeal against their conviction.
Russian Foreign Minister Sergei Lavrov was quoted by RIA Novosti as saying the trials were "being held on the basis of the legislation of the Donetsk People's Republic, because the crimes in question were committed on the DPR's territory".