By Josh Parry
LGBT producer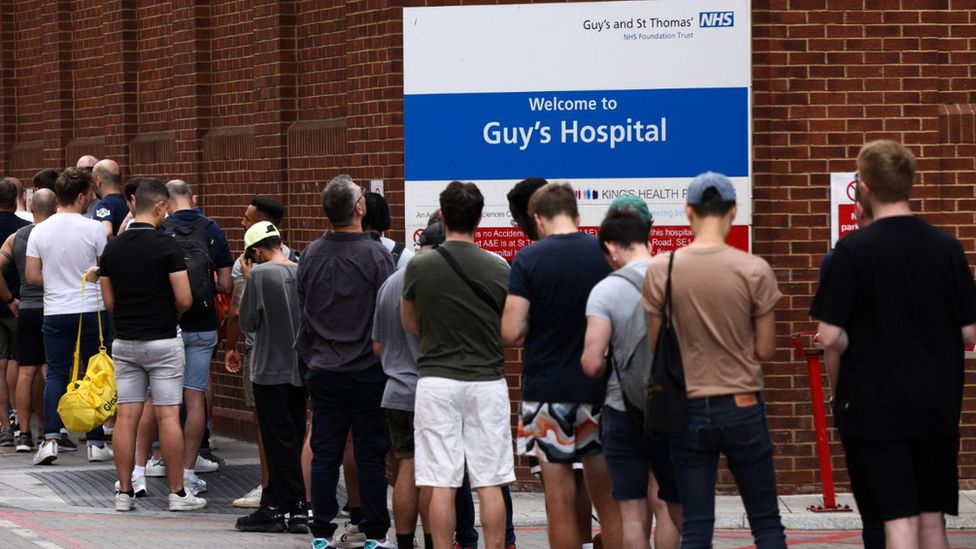 Sexual health charities and LGBT groups are calling for the government to step up efforts to control the monkeypox outbreak in the UK.
In an open letter to Health Secretary Steven Barclay, they say that without a quicker and wider vaccine rollout, the virus could become "endemic".
There have been more than 2,600 cases of monkeypox in the UK so far, mostly among men who have sex with men.
The Department of Health & Social Care (DHSC) says it is working "rapidly" to vaccinate those at risk.
With two of the UK's most popular Pride events, in Brighton this weekend, and Manchester later in August, many people are trying to get vaccinated in order to feel safer.
BBC News has spoken to gay and bisexual men who say they have struggled to get the jab at their local clinics, and have had to travel to London or other large cities.
A spokesperson for the DHSC said it had already administered thousands of vaccines and that it is "working rapidly" to offer more appointments.
They said: "We have procured over 150,000 vaccines, and we're working with partners – including the NHS and UK Health Security Agency (UKHSA) – to share targeted, non-stigmatising communications with the LGBTQ+ community."
The Terrence Higgins Trust, which co-wrote the letter, says the rollout needs to be speeded up across the UK to help combat "fear and anxiety" within the LGBT community.
Its head of policy Ceri Smith told BBC News: "We need to see far better co-ordination, increased vaccine procurement, improved delivery and a cash injection to sexual health services to treat monkeypox."
The letter was also signed by representatives from LGBT groups for the Conservatives, Labour, Liberal Democrats, the SNP and the Green Party.
"Vaccinating those most at risk of monkeypox must be a priority if we are to stand a chance of preventing the virus from becoming endemic in the UK."
The letter also asks the government to deliver clearer messaging aimed at men who have sex with men about the symptoms of the virus, and what steps people should take if they believe they have become infected.
As of 1 August, NHS England stated that more than 14,000 people had received Imvanex, a vaccine designed to protect against smallpox, which the UKHSA says helps protect people who could be exposed to monkeypox.
The UKHSA says an extra 100,000 vaccines will arrive in the UK in September, with the aim of delivering the first 20,000 for use by the NHS this month. Current guidance is to give most people a single dose.
But some sexual health experts estimate around 250,000 vaccines are needed, and have recommended that people should be given two doses for maximum protection.
The monkeypox vaccine rollout is being co-ordinated locally by sexual health clinics across the UK, with each clinic taking an individual approach based on urgency and need.
This means there are different approaches to inviting people to appointments, and differences in who is considered high risk across the country.
Dr Mary Ramsay, director of clinical programmes at UKHSA, told the BBC that the vaccine is "being offered to individuals at higher risk of coming into contact with monkeypox, in order to offer them protection and contain the current outbreak."
She added: "We continue to monitor supply and remain in discussion with the manufacturer."
Alex Bradbrook, a civil servant from Manchester, considers himself to be in a high-risk category for acquiring monkeypox. He was vaccinated at a clinic in London while visiting for the weekend, after struggling to get one closer to home for several weeks.
He told the BBC: "I was in London for the weekend and found out via Twitter that a clinic in Hammersmith was offering the vaccine, so I called about 20 times and finally got through to someone and got an appointment."
While he's aware the vaccine isn't 100% effective in preventing monkeypox, Alex says it's a relief when heading to Pride events that he has some protection.
He added: "Now that I've got my jab I feel much more reassured. The minute that needle went in, it was like a huge weight being lifted off my mind.
"I'm really fortunate that I was already in London and able to get one. There are lots of people who just aren't in my position – people who either can't afford a train or can't get down there for whatever reason. It makes me quite angry that some people don't seem to be getting an adequate service who might be at high risk."