By Tom Symonds
Home Affairs correspondent, BBC News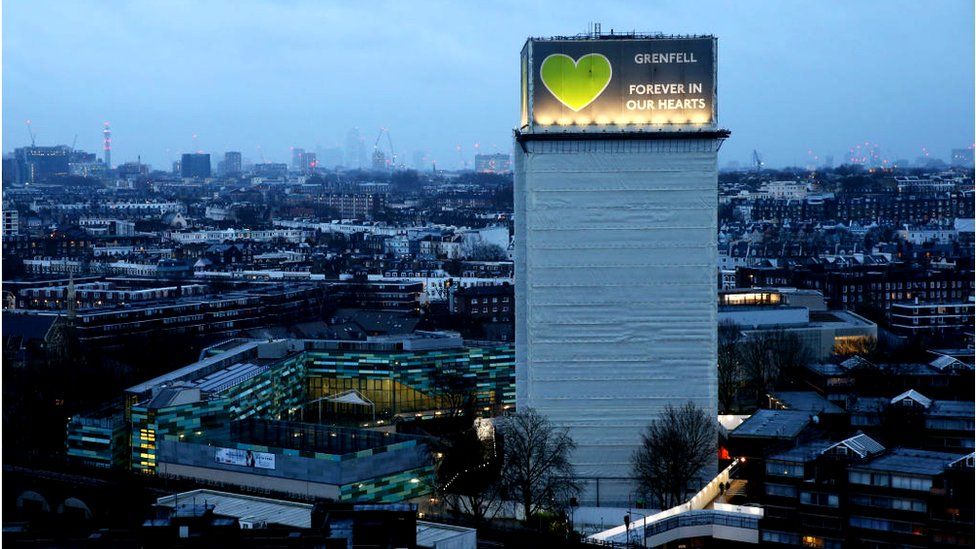 A judge has found the council that owned Grenfell Tower is liable for the deaths of five residents who died in the fire.
The judgement came in the High Court on Thursday, where more than 1,100 people are attempting to claim damages.
It followed an admission by the Royal Borough of Kensington and Chelsea (RBKC) that it failed to ensure the building was not defective.
Victims of the fire said the admission has been "hard fought".
The council also admitted liability for the effects of the fire on another four people.
This action is being taken at the same time as reports are being prepared for the second phase of a public inquiry into the disaster, in which 72 people died in June 2017.
RBKC owned Grenfell Tower and oversaw the refurbishment of the building using flammable insulation, while Tenant Management Organisation (TMO) was in day-to-day control of the tower.
The inquiry previously found the aluminium composite material (ACM) cladding used enabled the fire to spread, having started in a fourth-floor flat.
BLJ solicitors, which represents 85 of those making a claim said: "It has been hard won in the face of resistance from RBKC and TMO to openly accept responsibility and comes over five years since the fire. It should not have taken so long and been so hard fought.
"No amount of compensation will bring back family members who died and for those who survived who have had to rebuild their lives."
In a letter to BLJ solicitors, the council admitted breaching a duty of care to some residents of the tower and "walkways" nearby.
However, RBKC is refusing to admit that its actions caused the fire to spread.
Medical reports are now being compiled for dozens more people who are among the group taking civil action against the west London council.
In separate proceedings, hundreds of other claimants will have their cases considered as part of a dispute resolution process next year.
A Kensington and Chelsea Council spokesperson said: "Grenfell is a tragedy that should not have happened and must never happen again.
"We hope that this admission helps to reduce the burden on those affected and leads to other parties being able to do the same."
Related Internet Links
The BBC is not responsible for the content of external sites.