By John Bray
BBC News, West Midlands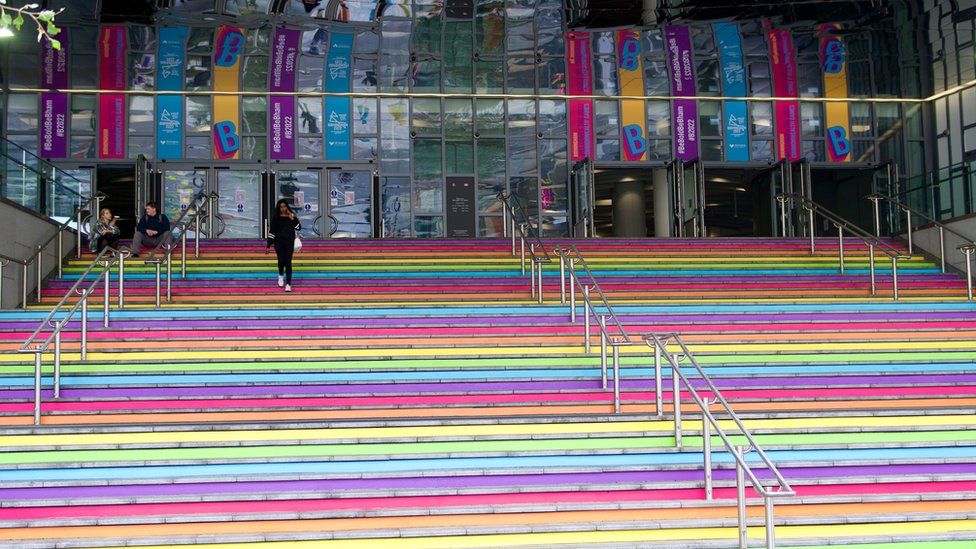 Thousands of visitors from around the world are heading to Birmingham for the Commonwealth Games – and they'll be greeted by a riot of colour.
Giant images are on display across the city centre and many landmarks have been painted in vibrant colours to celebrate the arrival of the games on Thursday.
"Birmingham 2022 is a unique moment for us to show our wonderful city and region to the world," said John Crabtree, Chairman of Birmingham 2022.
"I am confident that we have set the wheels in motion for a strong legacy."
The event will propel Birmingham on to a global stage; the opening and closing ceremonies will take place at the newly-redeveloped Alexander Stadium in Perry Barr, in front of a live audience of more than 30,000 people and a predicted global television audience of many millions.
"This is Birmingham's turn on the world stage as we throw the doors wide open to welcome the Commonwealth, celebrating the people and creativity that make this incredible city, through art, ideas, and innovation," said chief creative officer Martin Green.
The Birmingham 2022 Commonwealth Games run from Thursday 28 July to Monday 8 August.
The BBC is not responsible for the content of external sites.